TESLA LAUNCHES EXPANSION VESSEL SERVICE VALVE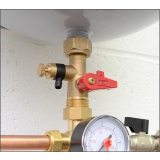 10 July 2018
The Expansion Vessel Service Valve (EVSV) by Tesla UK Ltd allows the expansion vessel to be isolated and drained for essential periodic servicing, re-charging and even replacement.
The EVSV saves the installer time and money as there's no need to drain down the whole system. It typically takes on average 60-90mins to drain down the system whereas if you were to fit the expansion vessel service valve by Tesla UK, you would be saving at least an hour of labour. There's also the added benefit of not having to replace system chemicals.
The added features and benefits also include an anti-tamper lever, protected shut/open facility against inadvertent closing, swivel nut for ease of installation, swivel drain off. The EVSV can be connected directly onto a sealed system kit without the need for adaptors and comes complete with washer and locking wire.
The valve was showcased at Installer Show in May with many installers expressing a keen interest in the product, finding the RPP of £14.95 very reasonable, realising that this product will save them time and money and asking where they could buy it from. Stock is now available from Tesla UK from and has already been taken on by Screwfix ready for a September catalogue launch.
Talks are also in place with other national and independent merchants so we hope the valve will be readily available to installers within the next few weeks.
If you would like to become a stockist, please get in touch.